Building an Inclusive and Transformative Data Strategy in Research and Community Engagement
October 13, 2022 @ 11:00 am

-

12:00 pm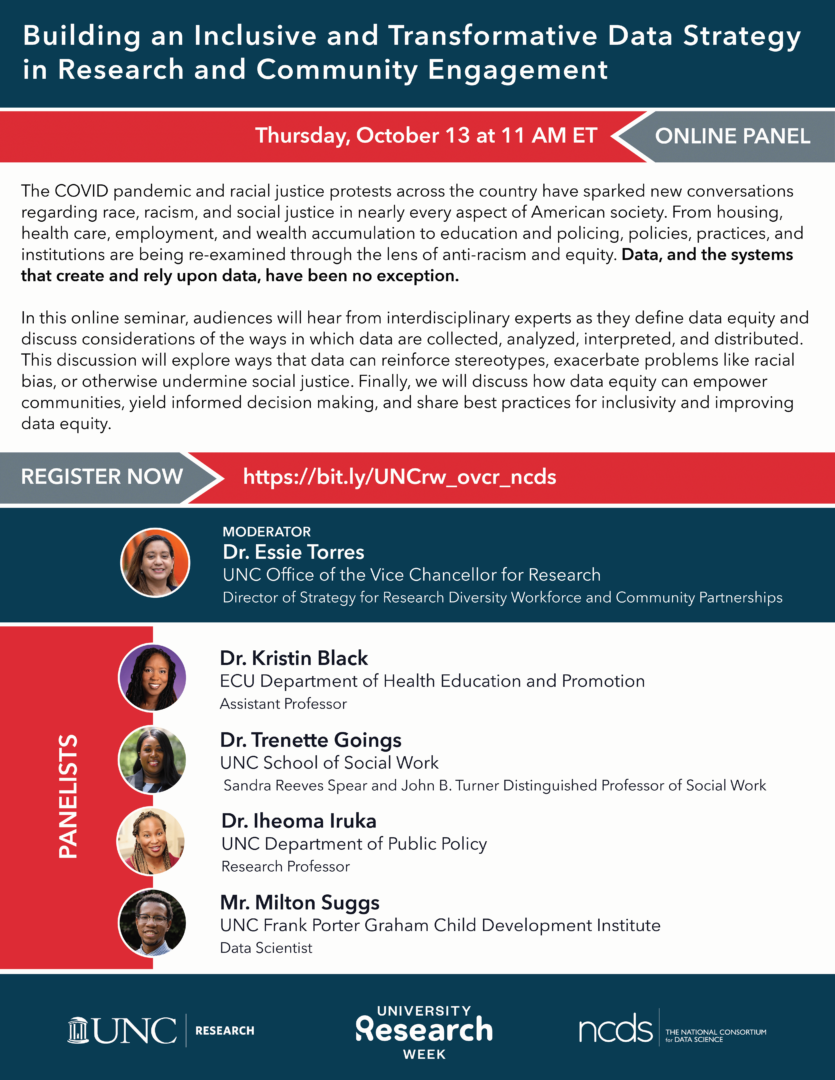 The National Consortium for Data Science (NCDS), in partnership with the UNC Office of the Vice Chancellor for Research, will host a conversation on Building an Inclusive and Transformative Data Strategy in Research and Community Engagement on Thursday, October 13 at 11 AM ET.
The COVID pandemic and racial justice protests across the country have sparked new conversations regarding race, racism, and social justice in nearly every aspect of American society. From housing, health care, employment, and wealth accumulation to education and policing, policies, practices, and institutions are being re-examined through the lens of anti-racism and equity. Data, and the systems that create and rely upon data, have been no exception.
In this online seminar, audiences will hear from interdisciplinary experts as they define data equity and discuss considerations of the ways in which data are collected, analyzed, interpreted, and distributed. This discussion will explore ways that data can reinforce stereotypes, exacerbate problems like racial bias, or otherwise undermine social justice. Finally, we will discuss how data equity can empower communities, yield informed decision making, and share best practices for inclusivity and improving data equity.
The event will be moderated by Dr. Essie Torres, Director of Strategy for Research Diversity Workforce and Community Partnerships at the Office of the Vice Chancellor for Research. Our panelists include:
Dr. Kristin Black — ECU Department of Health Education and Promotion
Dr. Trenette Goings – UNC School of Social Work
Dr. Iheoma Iruka — UNC Department of Public Policy
Mr. Milton Suggs — UNC Frank Porter Graham Child Development Institute
View a recording of the event here.