Analyzing Data Science Careers | Spring Career Panel 2023
April 13 @ 4:00 pm

-

5:00 pm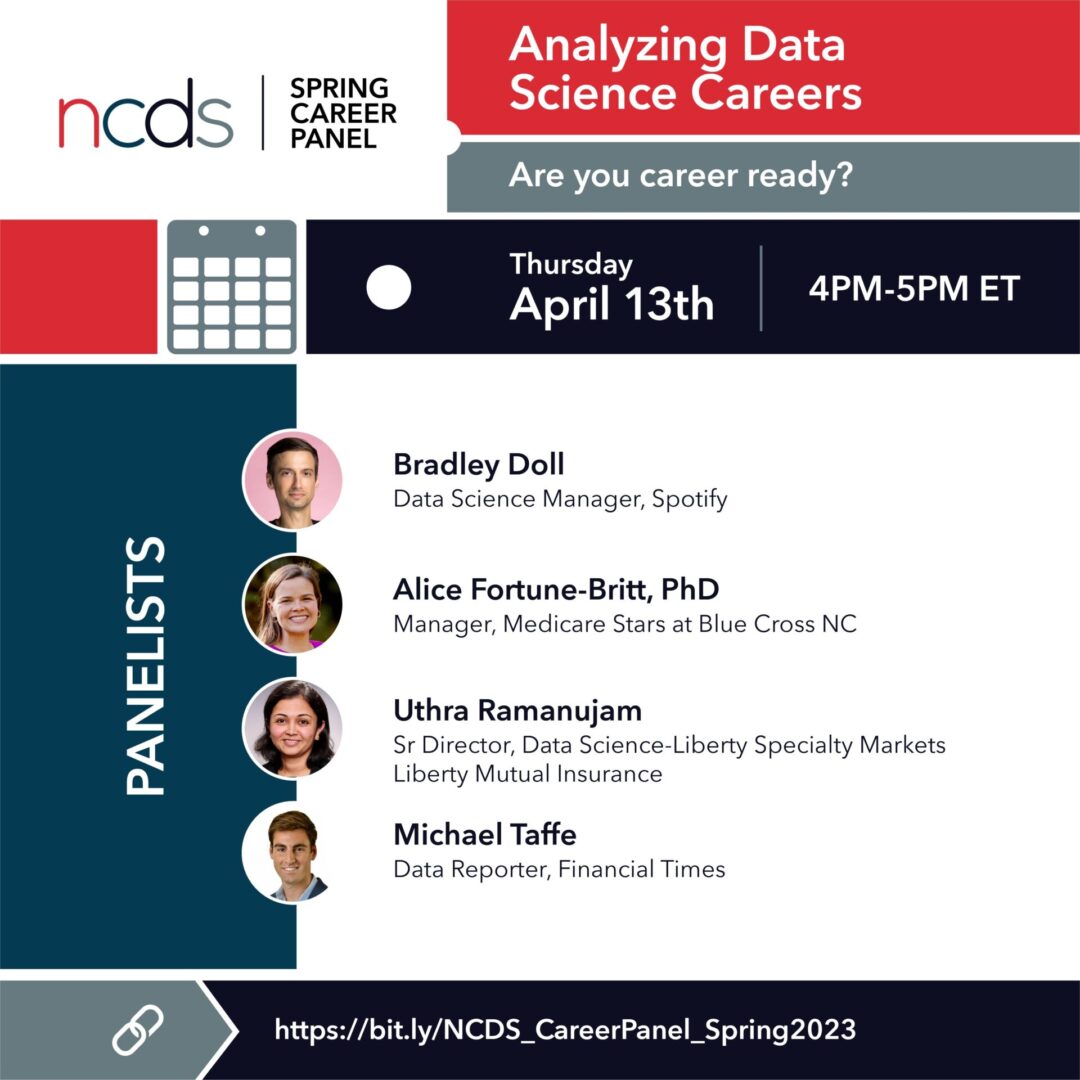 You don't want to miss these data science professionals who provide insight into what it takes to capture the attention of top recruiters in data science and data analytics. Our panelists represent a variety of career stages and they are ready to discuss what it takes to set yourself apart as you launch your career search.
Join us to learn more about:
What programming languages are in demand now,
Unexpected ways to promote your experience
What experiences you should gain early in your career
Speakers include:
Bradley Doll | Data Science Manager at Spotify: Brad leads a data science team at Spotify working to develop data analysis products for advertisers. Trained as a cognitive neuroscientist, Brad transitioned from academia to industry to set up a data science practice at The Daily Beast prior to joining Spotify in 2019.
Alice Fortune-Britt, PhD | Manager, Medicare Stars at Blue Cross NC: Alice is a health services researcher by training (Health Policy and Management, Gillings School of Global Public Health). After working briefly in academia, she started at BlueCrossNC as a Data Scientist and transitioned to a Senior Strategic Advisor. In her current role as Manager of Medicare Stars, she is responsible for strategy, performance monitoring, and analytic insights to improve member experience and health outcomes.
Uthra Ramanujam | Sr Director, Data Science-Liberty Specialty Markets at Liberty Mutual Insurance: Uthra Ramanujam is the Senior Director of Data science and advanced analytics at Liberty Mutual and supports Liberty specialty markets globally where she leads a team of data scientists and product managers delivering innovative solutions across the insurance value chain. Prior to that she was the VP of Strategic tech research at StateAuto Insurance in Columbus,OH where she lead a similar team delivering business capabilities using ML/AI and Blockchain and other cutting edge tech . Before State auto she was an Executive Director at JPMorgan Chase & Co. leading the Machine Learning and Emerging Technology Group, which supports Consumer Operations. She has a passion for mentoring and teaching technology and teaches data mining and python programming part time at THE Ohio State University and UC Berkeley.
Michael Taffe | Data Reporter at FT Specialist: Michael Taffe is a D.C.-based data reporter for two of the Financial Times' industry publications, FundFire and Financial Advisor IQ, covering institutional investors and asset managers. In this role, he reports on the growing role that large money managers play in affecting public policy and the financial services industry as a whole. He studied statistics and economics at UNC-Chapel Hill and has previously reported on campaign finance and higher education in North Carolina.